Shazia Deen's 'Neemar' Jewellery to be cherished for generations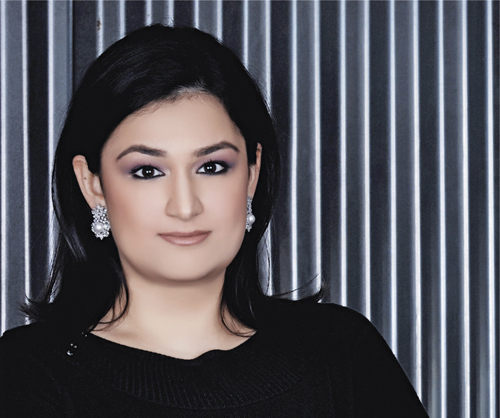 By Injila Baqir Zeeshan
Brides & You caught up with jewellery designer Shazia Deen to bring our readers an exciting insight into the life and work of this very talented artist.
How did it all begin. Tell us briefly about the journey.
Sketching was always my passion. I think designing is an innate quality. I have been associated with jewellery designing for 14 years now.
How did you develop a love for the field of jewellery design as opposed to dresses or bags or shoes or any other fashion accessory?
I think life offers opportunities and mine was in this field. There was no looking back. I do not think that it should be or is always a planned move on a designer's part to choose a particular type of designing. For designers I believe it is a passion that comes first. Any field that they end up choosing is their calling and passion. A format that expresses their feelings in the best way possible is what is important. Nothing else matters. Period!
What kind of jewellery do you design mostly and which type do you enjoy more light/casual, semi formal or bridal?
I design formal jewellery mostly and that is what I enjoy most. Even my lighter pieces have a lot of design element and intricate motifs which is how I feel most satisfied.
Which of the above do you excel in or are famous for? And for which of the above is there a greater demand in the Pakistani clientele?
I am most famous and well known for my bridal wear and elaborate pieces. I have never really thought about what the market dictates because I feel it is our responsibility as designers to dictate trends and I do that. I respect my clients' opinions and listen to their requirements but that does not change the way I want my designs to look. Yes, I have been inspired by some clients to draw something new and experiment with my own designs. It has worked well. So in short we all have a great deal of learning to do, I am not a know-it-all and so designing is an ever-evolving process. We all learn from our surroundings and each other and keep getting better with time.
What is the common aesthetic when it comes to bridal jewellery for most Pakistani women? How has it changed in the last five years? Where do you see it going in the next five years?
The most common feature that I have been noticing in our country, is demand for grandeur- that is how big a piece looks. Nowadays, the tastes are becoming more international, so a shift is taking place towards 'less is more'. I think we are going to maintain our identity in the years to come and settle for a mid way. However, our traditional polki and gold filigree work will remain as popular as ever.
What goes into jewellery designing? Where do you get your inspiration from?
I think experience becomes a very important tool and eases the pain of waiting for inspiration. When I am relaxed and well traveled, I start sketching. However, I cannot undermine the importance of observation for my inspiration. I am a very keen observer and that has always reflected in my designs. For example just lately, I created a collection of butterfly earrings. My inspiration had come from a butterfly museum I had visited recently.
What are your personal favourites when it comes to colours/ finishes of gold and other metals and stones?
I have too many favourites and simply cannot name one. I enjoy mixing polki and conventional diamonds together to create pieces of fusion. I love south sea pearls and Panshir Emeralds adorned by fancy yellow diamonds to complete a 'wow' piece.
What are the jewellery trends which you forecast for the coming S/S 2015 weddings?
I can never support a certain trend; it will make me and my styling stereo typical. Every bride should look different and classy and should wear what best suits her. The great thing about my job is that there is such a huge range to choose from. You can be as traditional as your grandmother looked on her wedding or as glamorous as a Hollywood star. Within each category in between I would give a going-to-be bride many options and even experiment with newer ideas. And that is what makes the journey fun.
What is Shazia Deen's specialty- What makes you different from other jewellers in terms of design as well as service and understanding your client's requirements?
My specialty is connecting with the bride-to-be. At the end of the day we are all working for the bride to look great, not just her jewellery or the clothes. If we are able to create a look in entirety, that gels with her persona and enhances her beauty, our job is done.
How many carats do you make jewellery in mostly? Do you also make semi precious or gold plated sets? Women tend to believe that if they allow the jeweller to put in too many stones it will not be a good investment as opposed to the set having more gold in it. What are your thoughts about this?
I only work with gold 18 carats up to 21 carats. As far as jewellery as investment is concerned I have realised over the years that the value of gold and diamond both have increased so one cannot go wrong in the long run. In my opinion, if the stones are of good quality, then they are also a worthwhile investment and women should not be afraid that their jewellery pieces will lose value.
What is your personal style? Which designers work do you admire locally and internationally?
I like estate jewellery and classic design houses like Harry Winston, Graff, Cartier, Van Cleef and David Morris.
Where do you see your brand in the next five years? Plans in the pipeline?
I want to be an International brand. Let us see how it happens and when can we make it happen, but yes that's the goal.
If you are planning on investing in your bridal jewellery any time soon, then make sure to check out the intricately crafted pieces by Shazia Deen. Here you will be able to get your hands onto items which not only you but your future generations will be able to cherish for a long time to come.