A Powerful Message Through A Bride s Wedding Dress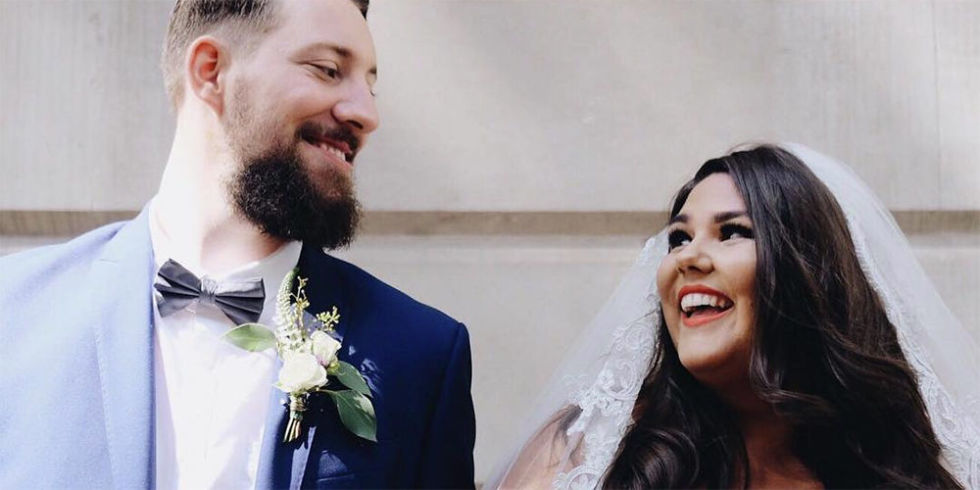 The reality of millions of brides-to-be may not align with the ideals for body image that we may have cultivated for ourselves, by evaluating skinny fashion models over the years. Everyone does not meet such standards of body image. Despite encouraging aspirations taken by brides to attain a modest body image, it might be absurd to push one of them to reach such standards. Meanwhile everyone is trying to make a statement with their wedding dress as it shall be their memory of a lifetime.
A blogger Callie Thrope in the west is a regular brides who connects with millions who are not exactly fashion model types. She does not possess a zero figure and surely that would not stop her from getting married. On the contrary she's a plus size bride who relayed a powerful message to zillions trying to assure them that they are still pretty great.
She chose a beautiful wedding dress, as per her culture but with a  message to go along with the dress.
I would like to say this one thing to brides to be everywhere plus size or not do you not feel you have to change yourself or your size to be happy on your wedding day. You are deserving of happiness and you will still be the most beautiful person in thee room.The happy ending is for everyone so please, please let yourself have it."
This gentle note to all brides was a reminder that inner confidence sparks major glow. As beautiful as Callie's dress was on its own, it was her positive attitude that brought the entire look together. She got married looking beautiful in her wedding. Look at the pictures below.