From Our Archives- Kashmala Tariq Brave New Woman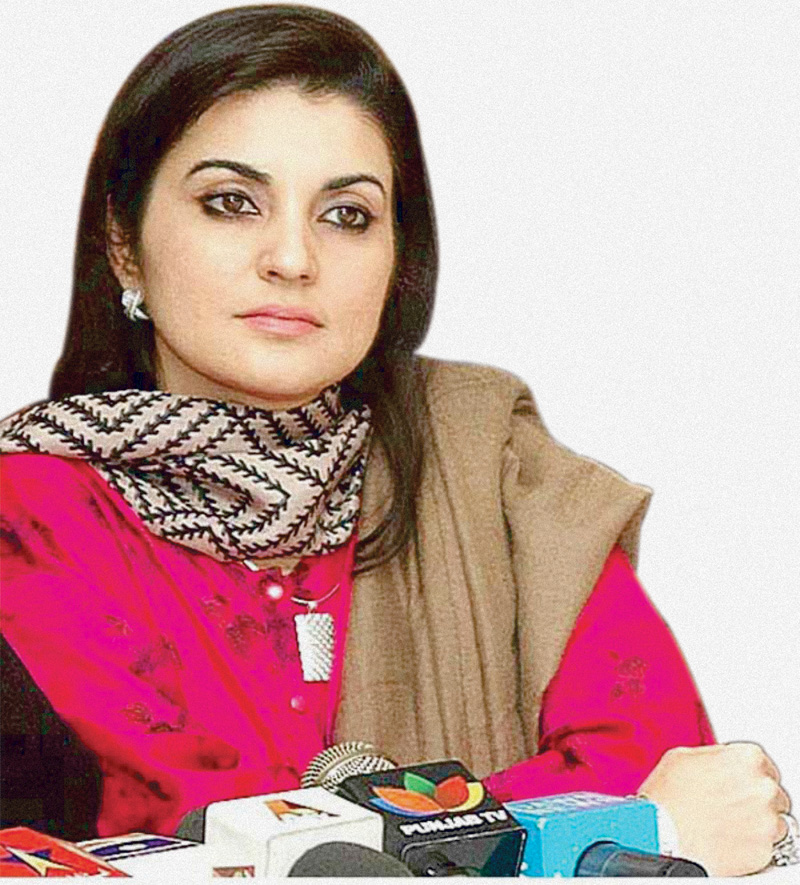 I dream of a Pakistan where political parties and politicians are free to voice their concerns on the floor of the parliament; where women are treated equal to men; where there isn't a huge gap between the rich and the poor; where every citizen gets the same education; where no one needs to hire a private guard to feel safe…. and I believe such a Pakistan can exist. All we need is a sincere leadership with vision." A passionate Kashmala Tariq pours her heart out in an exclusive interview with Brides & You.
This bold and the beautiful young politician stands out not because she is pretty but because she is outspoken and courageous and can speak her mind at any forum. She can call a spade a spade and in our hypocritical society it is not a habit that goes down very well with the power lords. But Kashmala has not just survived in politics she has come a long way. She was elected as Chairperson of Commonwealth Women Parliamentarian from 2007 to 2010. She won the post in balloting against parliamentarians from Canada, Dominica and Australia.
Kashmala Tariq, current Member of National Assembly, appeared on the political horizon nine years ago. This young girl, within no time became the darling of the media. However, the initial coverage of her activities in media is all biased against her because she was viewed suspiciously by the journalists. A woman as beautiful and young as Kashmala, in their minds, did not belong in the tough world of politics and coupled with this was our centuries old cultural bias that a beautiful woman is usually brainless.
I had never paid much attention to Kashmala or the other girls who joined politics around the same time but their faces were familiar because of their endless appearances on national television and in print media. Being a women rights' activist, I was happy that young women were taking an interest in politics and thought that with time they will be groomed to become agents of change and will establish the civilized society's rule of 'right is might' instead of the prevailing jungle rule of 'might is right'.  I did wish these ladies well but to tell the truth I also shared the common suspicion about their intentions and calibre as politicians.
However, all that changed recently when I met Kashmala Tariq for the first time a few months ago. I invited her to an interface with survivors of early marriages – an event organized by Rahnuma FPAP to bring to light the atrocities committed in the name of marriage against young under-aged girls. The idea was to let the policy makers of this country interact directly with these survivors so they know how grievous the situation is.
Kashmala was not one out of 10 women parliamentarians that I was expecting that day. I had invited her but I knew she is based in Lahore and for her to make it all the way to Islamabad for a two-hour event especially, when the parliament was not in session, was a little too much to ask. I offered to send her an air ticket which she declined and that further dashed my hopes. As a routine, I did check with her that morning if she was coming to which she said that women issues are close to her heart and she awon't miss an opportunity to have a face to face dialogue with these girls whose rights were denied to them, but I wasn't sure. Therefore, when she arrived at the event she earned my instant respect for being sincere to her job.
The second time that Kashmala surprised me was when I requested her for an interview and she kindly agreed. On the day of the appointment I called her at the fixed time but she excused herself saying that something had come up and she wished to switch the appointment to the next day. I have been dealing with all kinds of celebrities during my over three-decade long journalistic career and I knew that this meant, trying to get an appointment all over again. I was not looking forward to it and even started exploring other possibilities as my deadline was near. But the next day before I could have called her to make the appointment Kashmala called me herself, started with an apology for not being able to keep her appointment and told me to come over to her place for the promised interview. Those of you who are not familiar with politicians' behaviour, let me assure you, this is most unusual and speaks volumes for Kashmala's character.
I arrived for at her house. The house was full of artifacts collected from all over the world. Beautiful paintings adorned the walls and hundreds of law books piled up on the table bore testimony to her claim that she takes her role very seriously.
Kashmala Tariq was born in Lahore on January 24, 1972. In 1991 she graduated from from Kinnaird College for Women, Lahore in Maths, Stats and Economics. Her passion for law took her to Punjab University Law College from where she earned an LLB in 1996 and for higher degree in law, she proceeded to London School of Economics, U.K in 1999. She came back with LLM. At LSE she remained the President of the LSE Students' Union between 1998 and 1999. She invested a number of years in practicing law with the famous firm of S M Zafar. To date she claims that law remains her passion but she was swept into politics by incidents in her life that were not really planned that way.
However, she claims that politics is not her passion – bringing a change is, and politics is just a means and a legitimate and only way towards achieving her goal. She got into politics very early in life. She was Secretary General of an Environmental NGO (Sath) from 1992 to 1995; and the President of the Peoples Students Federation (PSF) from 1993 to 1995. During her stay at LSE, she developed her political affiliations with 'Pakistan Tehreek-e Insaf – Imran Khan's brain child'. For two long years i.e. 1998 – 2000, she remained 'Chief Organizer – Pakistan Tehreek-e Insaf UK'. But got disillusioned by lack of vision in party leadership.
Ms Kashmala Tariq's political career did start in her student life, but she her mainstream political career can be traced to her becoming the Chief Organizer of PTI in UK. On her return to Pakistan, she joined PML (Q). She was attracted to the moderate-Pakistan concept of Musharraf and remained one of his die hard supporters and admirers for a long time. However, now she feels that Musharraf too lost his way towards the end and became more concerned with his own survival than with his vision for the country.  She is in general disillusioned by all the leaders in this country. She thinks that after Jinnah the country never got a sincere and capable leader and that is why we cannot show any improvement in our situation.
Kashmala Tariq was elected to the Parliament in Pakistan on a Women Reserved Seat in the Punjab Province.  In her nine year long career in mainstream politics she has been groomed. Her open mannerism and courage earned her respect of her colleagues and media. Her background in law enabled her to contribute in major changes like formation of women protection bill and hudood ordinances.
Her area of interest is education and she feels very strongly about it. She believes that if a change will come in this country it will only come if and when education is given due importance. There is a dire need of awareness and education for the masses. The other subject close to her heart is women rights. She feels that women are suffering in this country because their rights are shamelessly denied to them. She said that if people believe that women belonging to the elite class or the so called upper class are protected from this trend they are mistaken. A large majority of women, regardless of the economic class they belong to, are forced to suffer injustices in the name of tradition and custom and also by gross misinterpretation of religion.
Like any public figure Kashmala has had more than her fair share of scandals. However, she never feels flustered or depressed by these incidents. She said that she believes in God and leaves it up to him to deal with those indulge in mudslinging. She also said that why should I bother with such people when I know that people who do these things are actually the ones who are insecure in their positions.  And things that are not based on truth, never last – like all lies they fizzle out with time.
Kashmala is married and has one son. Her favourite pastime is to go ridding with her son. She also enjoys Swimming and listening to good music. Her message to our young female readers is 'stand up and be counted'. She agrees that Life for women is hard in this country but if we are to change the way we are treated we will have to show the courage that is required to defeat the forces that still want to push us in dark ages and want women to be subservient to them and wish to push them back into centuries old conservative roles. It is the responsibility of every female to make herself strong so she has a voice and visibility in our society. We can only win the fight for our rights if we go for it as a force – together. The first step towards winning this war is to become economically independent so no one can suppress you.