Shiza amp; Hassan's Romantic Tale August 2006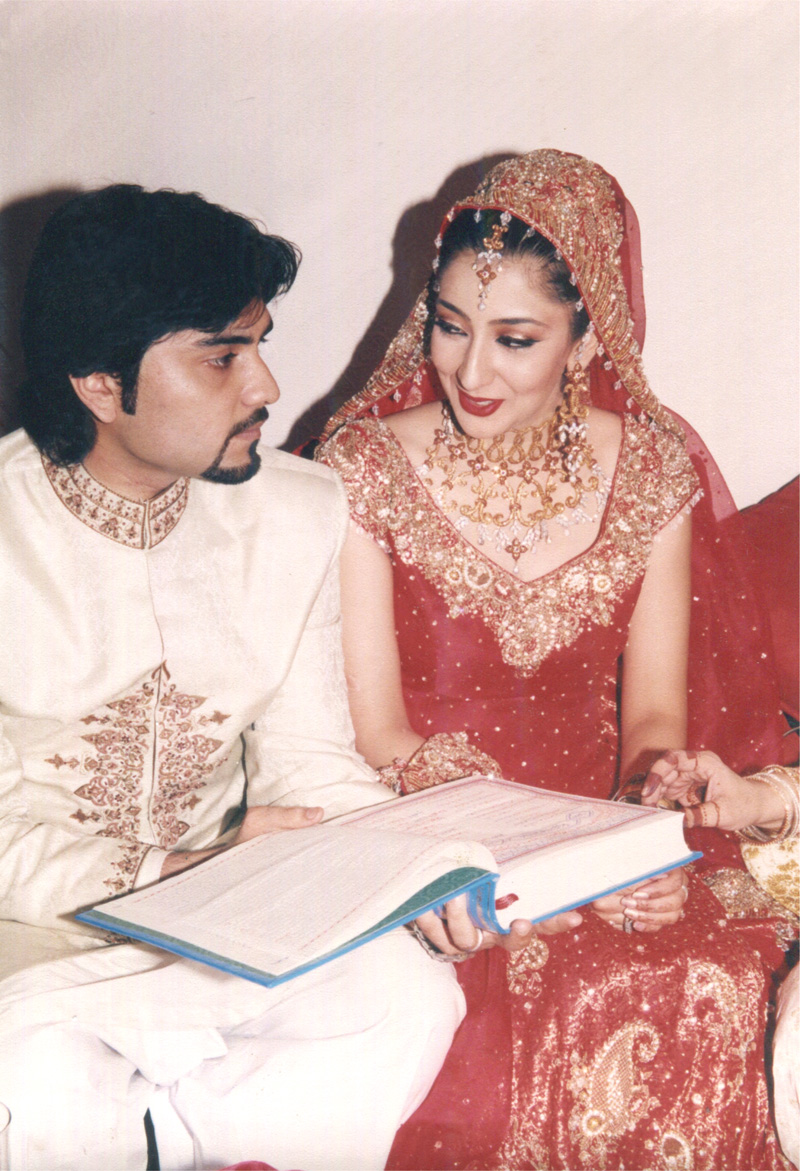 When did you get married and how old were the two of you?
Shiza: We got married a decade in August 2006. I was 24 and Hassan was 25 years old.
Was your marriage an arranged one or not?
Hassan: A bit of both. First we met and then when things became a little serious we involved our parents. Eventually we got married.
How and where did you meet?
Shiza: We met at my cousin's wedding, who happened to be Hassan's friend. Both of us were really fond of dancing. Later, I found out what Hassan had to go through to have himself paired up with me in one of the songs!
What made you two decide that you were perfect for each other?
Shiza: He says that as soon as I saw you I told my friends that this is the girl I want to get married to! His persistence led to our marriage.
One thing you remember about your wedding day?
Shiza: There was a lot of rain. I had fractured my foot and I remember having a little bit of cold feet. But there was lots of love and laughter in the air.
One thing you wish you could have added to the ceremony:
Hassan: I think it was great the way it was.
What was the wedding night gift for the bride?
Hassan: A white gold pendant.
Where did you have your honeymoon? Who decided on the place and why?
Shiza: We went to Langkawi, Malaysia. I love the beach and Malaysia was the best option in late August in the Monsoon season.
What was the most embarrassing moment during your honeymoon?
Shiza: When Hassan completely shaved his goatee for the first time – I could not recognize him at all!
A favourite activity that the two of you enjoyed on your honeymoon?
Hassan: Long walks on the beach!
What was the most shocking thing about him which you discovered on the honeymoon?
Shiza: That he did not enjoy water supports. Luckily, I have managed to change that now.
What was the most shocking thing about her that you discovered on the honeymoon?
Hassan: There were no major surprises.
The one thing you would change if you had the chance about your honeymoon?
Shiza: I wish it could have been longer if it had not been for my classes at NCA.
Who gives in first when you fight?
Shiza: I make sure it is always Hassan!
What is your song?
Shiza: Back from the days; I don't wana miss a thing – Aerosmith, Can't stop loving you – Phil Colins and Tere Bin – Rabi Sher Gil.
The first movie you saw as a couple? How did you like it?
Hasan: The Illusionist and The Holiday. We enjoyed them.
The one relative or friend of your spouse whose company you enjoy the most, and why?
Shiza: Hassan, me and our boys are very close with Aisaam-ul-Haq and love spending time with him whenever he is around. We have a lot of close mutual friends (would be difficult to name them all).
Favorite activity as a couple now?
Hasan: We love to travel together and spending time with our two little boys.
Which was the best time of your life? Before marriage? The honeymoon or now? Or still waiting?
Shiza: Allah is very kind and I am grateful to him- we love to live in the moment and cherish the memories!
Any special memories incidents you would like to share?
Shiza: We moved to Karachi for four years in 2010 and for us that was simply amazing. We got a chance to be on our own and know each other better! Our kids were really young so we gave them all the attention and it was completely precious. We met some amazing people and still remember those days!