Mother's Day Celebrations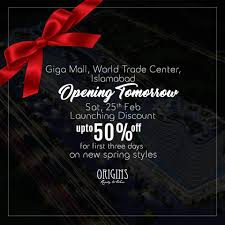 There are many different ways to please your mother but perhaps the best way is to give her a shopping voucher all for herself.
Mother's Day celebrated worldwide on May 14, every year is a symbol of showing love and gratitude to your mother. What is a mother? A mother is a parent, a cook, a mentor, a friend, a confidante, a teacher and the list is infinite. A mother performs all these tasks without asking for a reward or any kind of appreciation. So in return for all her love, can we not spare a single day to tell her how much we love her?
A mother spends all her money on buying clothes, shoes, toys, books and other wants and desires of all those connected to her. She puts herself aside and spends on her children, spouse, siblings, parents, etc. So what you can do on Mother's Day is to treat her to a shopping spree!
Here are a few deals that you can avail for your mother:
Mausummery Mother's Day Celebration upto 50% OFF on Pret and Un-stitched clothing.
Celebrate Mother's Day with Stylo & Enjoy Flat 20% OFF

Stylo is a leading and well-known footwear brand which is offering its services for many years. On this Mother's Day 2017, Stylo brand unveils the discount Flat 20% OFF on entire products in stores & online. The entire sections of collections are offering for sale such as Summer, Bridal, Stylo, Stylo Kids and Accessories. The featured products of the sale are Slippers, Sandals, Chappal, Shoe Moccs, Pumps, Back Open and Khussa.
Fabrizio Mother's Day Celebration Flat 20% OFF

Fabrizio is the sub brand of Stylo which is also offering Mother's Day Sale Flat 20% OFF on entire clothing collections in stores & online. The entire collection of Fabrizio, you can buy from Stylo. The styles of Apparels which are showcasing in stores & online are divided into sections such as Ready to Wear, Woolen Wear, Simply Denim, Lowers, Luxury Pret, Warm Vibes and Scarf.
Clive Shoes Offering Flat 25% OFF on the Celebration of Mother's Day
Flat 30% OFF Mother's Day Sale 2017 @ Origins
Celebrated Mother's Day with Origins and enjoy Flat 30% OFF. Sale is valid on all collections including fresh summer items.
These are a few to help you choose from. So grab the opportunity and offer till it's valid! Make your mother happy!