The Cut Throat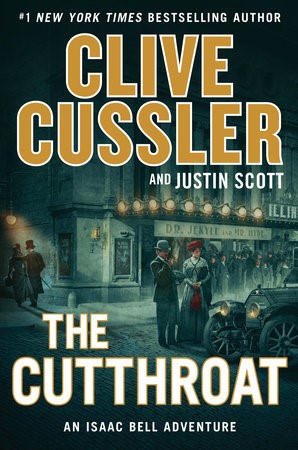 "Isaac Bell may be on the hunt for the greatest monster of all time in the newest action-adventure novel from the #1 "New York Times" bestselling author."
The Cut Throat by Clive Cussler, an action adventure novel was published in March 2017.
Cussler began writing novels in 1965 and published his first work featuring his continuous series hero, Dirk Pitt, in 1973. His first non-fiction, The Sea Hunters, was released in 1996. The Board of Governors of the Maritime College, State University of New York, considered The Sea Hunters in lieu of a Ph.D. thesis and awarded Cussler a Doctor of Letters degree in May, 1997. It was the first time since the College was founded in 1874 that such a degree was bestowed.
In addition to being the Chairman of NUMA, Cussler is also a fellow in both the Explorers Club of New York and the Royal Geographic Society in London. He has been honored with the Lowell Thomas Award for outstanding underwater exploration.
Cussler's books have been published in more than 40 languages in more than 100 countries.
Clive Cussler lives in Arizona.
The year is 1911. Isaac Bell a detective from the Van Dorn Detective Agency, comes across an intriguing case. He has solves many crimes and mysteries before but none such puzzling as this one.
Anna Pape is a young woman with high ambitions. Her father is a billionaire but she leaves the life of luxury and runs away from home to New York in the hope to fulfill her dream of becoming an actress. In New York she goes missing between wanna- be actors, money grubbing producers and crooked agents of New York theatre district.
Bell is hired to find the girl but it's too late now- she has been murdered. Belle s distraught and angry and feels compelled to get to the killer. Vowing to bring the killer to justice, Bell comes across an alarming reality. Anna is not alone to be murdered, other girls like Anna (petite and blond) have also been brutally murdered in the cities across America.
As the pattern goes beyond physical resemblance of the victims there are disturbing familiarities about the killings themselves that send a chill through even a man as experienced with evil as Bell. If he is right about his fears, then he is on the trail of one of the greatest monsters of his time."
Bell and his team discover that the serial killer was termed "Cut Throat" for his throat slitting tendencies. They discover that the killer kills all those connected to traveling theatre from London to Los Angeles to of course New York.
The Cut Throat is a spectacular novel right from the start to the end. "Cussler packs more action, intrigue, and suspense than ever before, topping it off with a fascinating villain worthy of squaring off with Bell. "
"Sometimes my plot lines are so convoluted, I get calls from friends at 3 am saying; you SOB, you'll never pull this one off." — Clive Cussler
But Cussler has confidence in himself and never fails to impress his readers.