Tuscany Courtyard- A must experience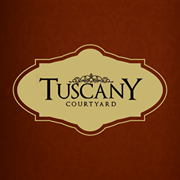 Located on the famous MM Alam Road, which is fast becoming the go-to Food Street of Lahore, Tuscany Courtyard has now launched its branch in the city of foodies. After their huge success in Islamabad, it has now come to our city.
TC offers Italian cuisine. It has derived its name from the Italian village Tuscany which is known for producing olives. Having taken its inspiration from Italy, the décor is based around the Italian theme. Tuscany is known as the birthplace for the Italian Renaissance. The interior gives you a feel of old Italian architecture with all the painted walls and art pieces hanging around; and also has an outdoor sitting which we Lahoris so love!
"Simplicity is central to the Tuscan cuisine. Legumes, bread, cheese, vegetables, mushrooms and fresh fruit are used." Again complementing the simplicity of the Italian theme.
Its hottest selling dish according to Mr Waqar Turab, the manager, is Polo Tuscan. It is chicken breast stuffed with spinach and coated with golden brown shredded potato, topped with Tuscan sauce and served with garlic rice. It costs Rs.1095 plus tax.
The restaurant is a family restaurant and is owned by two brothers, Faisal Khan and Khurram Khan. The restaurant is open from 12 noon to midnight all days except Fridays and Saturdays when it is open from1 pm to midnight.
The menu is priced for the upper middle to the upper class. The best dessert is chocolate fudge brownie skillet served in a sizzler skillet topped with hot chocolate fudge, almond crunch and sliced bananas with ice cream. The restaurant wants to introduce Sunday brunch & hi-tea in the near future. The chef Mr Zaryan Turab has received international training. He emerged as a winner in the Unilever worldwide competition held in Dubai in 2013.
Penne Arrabiata Pasta: Penne pasta with grilled chicken arrabiata sauce and olives was mildly spiced and not that saucy. However, if you are done with Alfredo Fettuccine and still want pasta, this should be your choice.
A few have to say that it's over rated. The service and ambience is great but the food is of average quality. However, different people have different priorities. Some believe that the food at their Islamabd branch is better and some swear that the Lahore food tastes far better than the Islamabad restaurant. For some the ambience is important, for others the food and service. So, there is no rating for one particular thing. It is all taken collectively.
So visit soon with friends and family.