Restaurant Review: LAL QILA-Food to drool over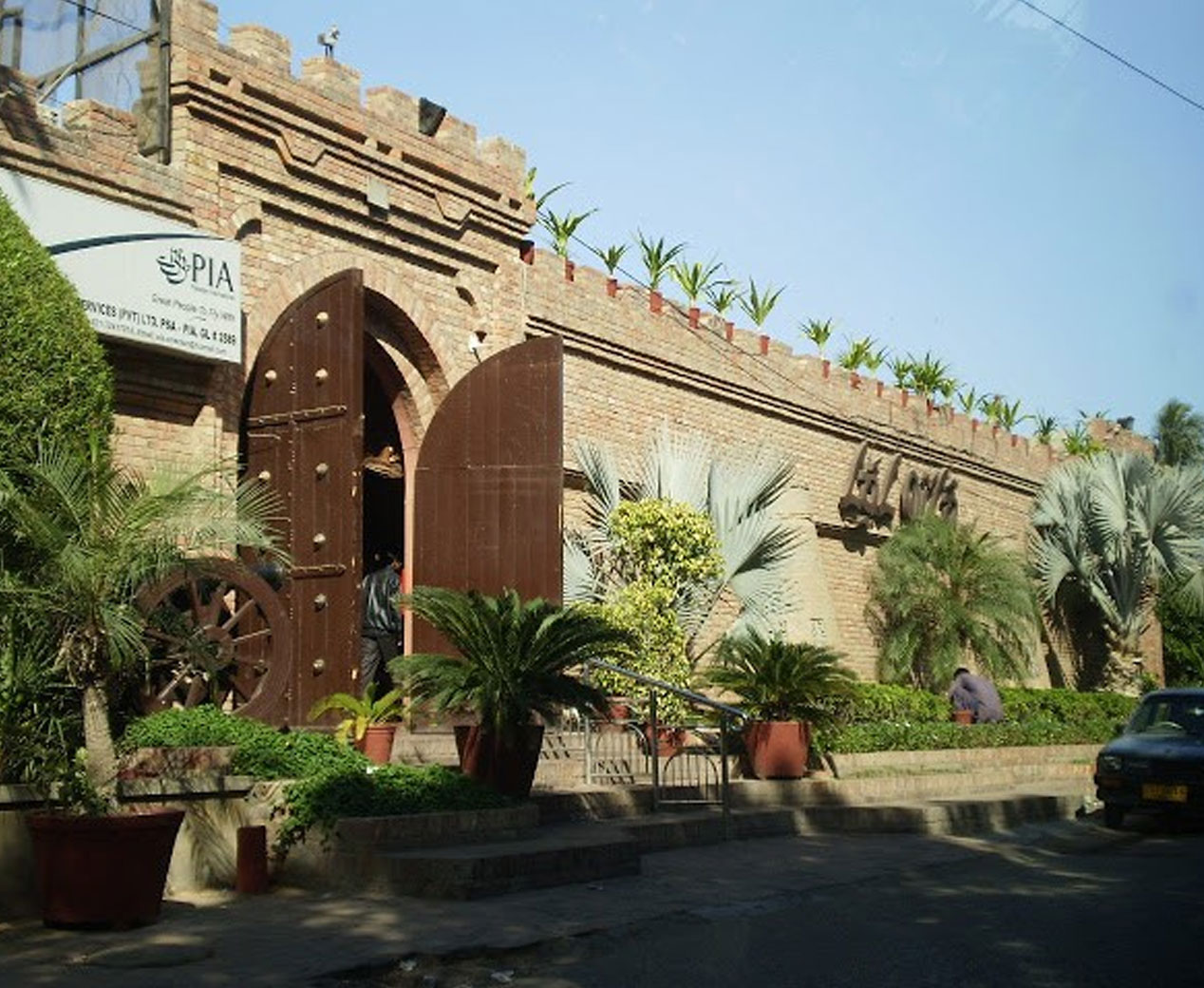 Lal Qila is a famous buffet restaurant located on main Shahrah-e-Faisal in Karachi.
The whole structure has been designed as a fort and constructed with red bricks, hence the name.
For the current rates of buffet lunch, hi-tea and dinner, please visit http://lalqila.com/karachi/
The massive wooden entrance doors lead into the main reception area.
The compact seating area at the reception has been designed traditionally.
Once they get the go-ahead, the customers enter the main restaurant area, which is open-air. There is an indoor dining room and a play area for little children as well.
A fountain and waterfall on one side provide the pleasant sound of running water – a real bonus for the outdoor diners.
This red-brick building next to the entrance/exit houses the children's play area and office. The play area is designed completely in wood as a small fort! Very nice idea. Children get excited by this immensely.
The washroom is very clean, but in dire need of some maintenance and repair.
There is a sitting area on an upstairs terrace as well, which these stairs lead to.
It is not open for lunch.
There is a central 'square' that houses the food area, where customers can help themselves to the food from large bronze/copper-colored pots.
Prawn Tempura. Freshly fried for diners.
The BBQ station is on one side.
It serves tikka and kababs in chicken and beef, barbecued live.
Chicken seekh kababs, Chicken Tikka, and Beef seekh kababs, in that order.
Clockwise from top right:
Fried Fish, Prawn Tempura, Chinese Egg Fried Rice, Chicken in Sweet and Sour Sauce, Beef in Black Pepper Sauce, and Vegetable Thin Mien. These are the items from the buffet which are really well cooked always and delicious.
Samandri Heera – boneless fried fish.
From left: Chicken Biryani, Aaloo Bhujia, Cholay and a tray for fresh Puris.
Khubani ka Meetha, Jelly Mousse, and Chickpea salad.
No traditional buffet at a Pakistani restaurant would be complete without this popular dessert: hot and tender Gulab Jamans floating in their oozy sweet syrup.
BBQ Kababs, Fried Rice and Black Pepper Beef.
Doesn't the barbecued mince look delicious?
Hot n Sour Soup with chicken and shrimps.
A tall glass of sweet lassi for Rs 70 Titled as "Dil ki Thandak" on the menu, this is the best lassi one could have!
Lab-e-Shireen, Khubani ka meetha, and gulab jaman.
Verdict: We think the above photographs speak amply in favor of the quality and freshness of the food. Sorry if they made you drool on an empty stomach! Everything in the restaurant is clean mostly and the ambience is more than satisfactory, especially the quality of the food.
We would recommend going to Lal Qila for lunch instead of dinner, because at the latter time, the entire restaurant is extremely crowded, especially on weekends, and the platters empty very quickly (taking time to be replenished), especially the salad bar. There are long queues in front of the fried items.
Kudos to Lal Qila for not just surviving, but thriving, in the local food-scape of Karachi.