the power-packed 32nd LADIESFUND Power Lunch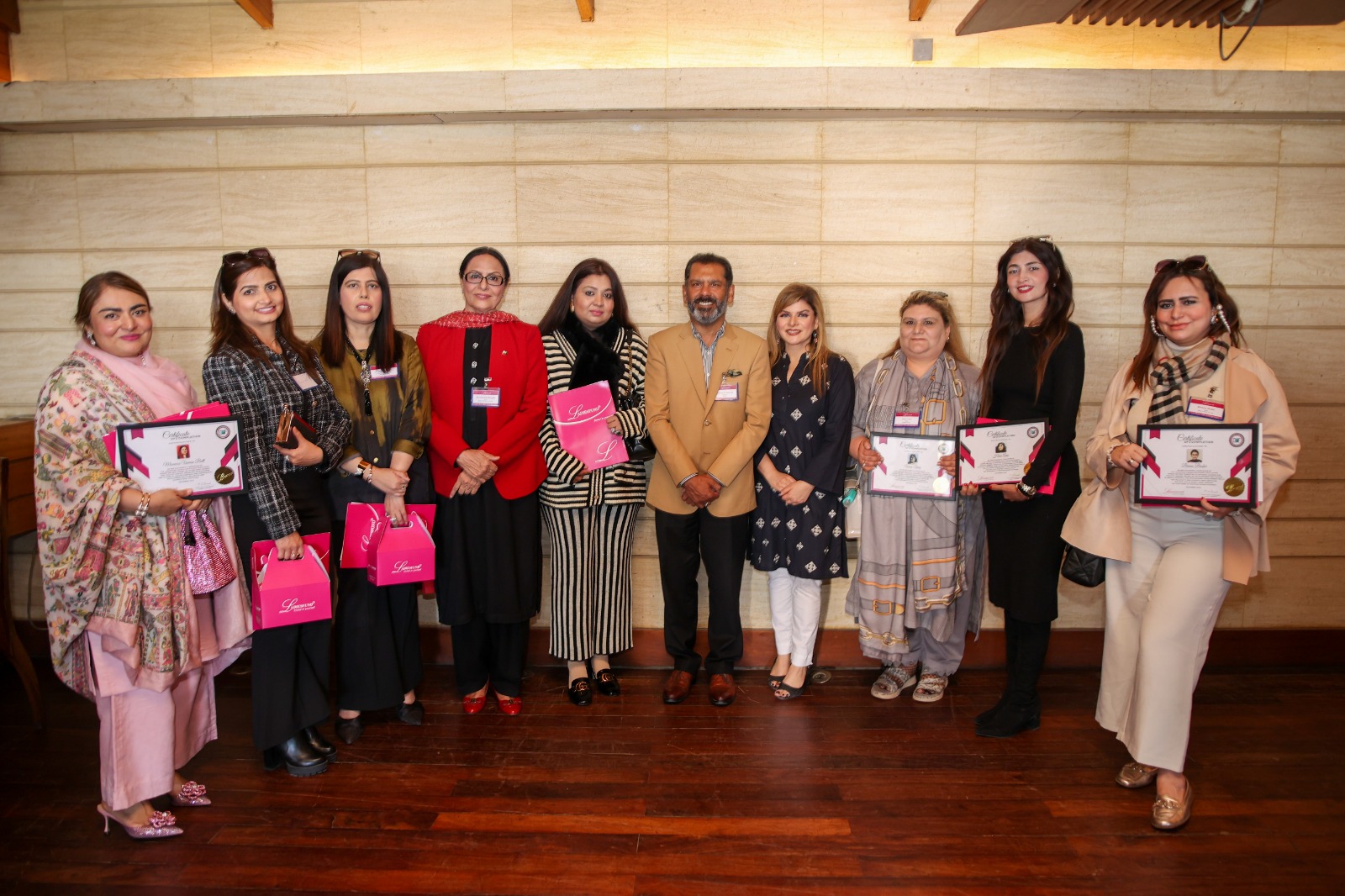 This dynamic must-attend networking session featured 40 incredible women leaders – including Sultana Siddiqui (founder, Hum), Zeenat S. Ahmed (founder, Taneez), Zeba Bakhtiar (actress), Sheema Kermani (classical Dancer), Noorjehan Bilgrami (owner, Koel), Nadia Hussein Khan (model), Seema Taher Khan (owner, TVOne), Ameena Saiyid OBE (publisher), beauticians Nighat Misbah and Angie Marshall, audit firm partners Moneeza Butt & Hena Sadiq,  Alycia Dias (singer), Huma Khalid (IFC), and Dr. Ishrat Lindblad (Professor-English Literature (Retd), et al. – as well as some extraordinary men who support women including sculptor Amin Gulgee, Sitara-e-Imtiaz Shujat Ali Baig, winner of Badin local elections Pir Muhammad Saleh and Ahsan Mehanti.


"We continue to transform the way power spaces and networking at the highest level take place as we're placing women front row and center in these conversations, having voice and respect from the get-go, with select inclusion of male champions for gender inclusion, diversity and women empowerment. With this thirtieth lunch, we further grow this pool as agents of change and the sectors represented," stated LADIESFUND President Tara Uzra Dawood.

"What an honor to have been invited by LADIESFUND and give a run down on power sector of Pakistan and few of my accomplishments while leading NEPRA as Chairman to some highly accomplished females of Pakistan," said Tauseef H. Farooqi.  
"Tara thank you so much for hosting such a powerful, power lunch, packed with inspiring people. Many of whom I have admired and am privileged to call dear friends. Thank you so much for honouring me and making me a part of your incredible vision" – Zeba Bakhtiar.

"Such an exhilarating LADIESFUND lunch meeting the movers n shakers of the industry to move together to do exciting events in 2023 . Kudos to Tara Uzra Dawood for arranging the lunch" – Pomme Gohar.

"As always, Ms Uzra Tara organised another wonderful LADIESFUND event. It was such a pleasure spending my Sunday with so many talented and inspiring individuals!" – Anjaleen Maryam Agarwalla.

"It was a pleasure to participate #LFPower LADIESFUND Lunch32 and sit amidst truly empowered women of Pakistan. It is we women who will take our country forward- more power to women!" said Sheema Kermani.

."As a newcomer to Karachi, it absolutely wonderful to meet the inspiring women of the city and having an opportunity to share how each and everyone of us can contribute to the city and to the country. The event was made all the more special with the inspiring words of the Guests of Honor ie. Tauseef Farooki and Khushbakht Shujaat. Thank you Ladies Fund for a lovely afternoon and wishing you more successes. – Huma Khalid, IFC.

"Bringing together women of skills and substance, aiding the young woman to discover her true  potential, Uzra  Dawood is creating a "Pink Brigade" at LADIESFUND. Cheers to Uzra and the woman who joins her, to challenge the status co and bring change, for a better tomorrow . – Seema Taher Khan.
"Honoured to be the Chief Guest at the 32nd  LADIESFUND Power Lunch with 40 female entrepreneurs and leaders in their field. Truly impressive group in a class of their own," said the Chief Guest.
Tara Uzra Dawood hosted the impactful event supporters included Nighat Misbah Depilex, Meezan Premium Tea, Soya Supreme and Chief Guest appreciation partner Madiha Sikander Artistry and Hina Anis.