Dessert Directory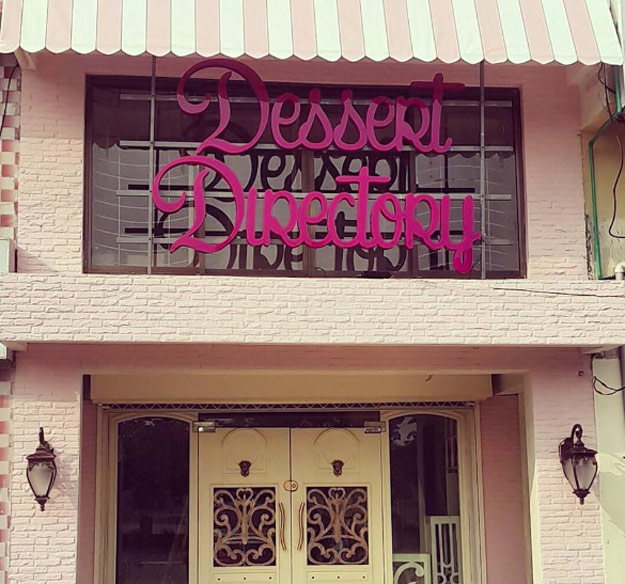 Located in Y Block commercial market of DHA, Dessert Directory is a bakery cum patisserie which offers rich and delicious desserts. Taking its inspiration from the French dessert boutiques, it offers the finest desserts that are excellent to taste and at the same time not too heavy so as to give an unpleasant feeling in the tummy.
Owned by the trio Moniba Javaid, Amer Javaid  and Khadija Shafqat, Dessert Directory started off by dealing in fruit bouquets and candy. But they always wanted to start a proper outlet which would provide mouth-watering desserts.
Moniba Javed and Amir Javed deal with the business aspect whilst Khadija Shafqat looks after the culinary aspect. They basically stock desserts made by home-based chefs. The vendors include Chef for the Weekend, Spoonful, Lahorelicious, The Mad Chef, Bano, Scrumptious, The Little Cake Company, The Pink Kitchen, Cake Couture and The Baking Room.
They have a versatile price range. From a minimum of Rs 150 it goes up-to Rs 500 and above. Dessert options on the menu range from the conventional banoffee pie, Nutella cheesecake, Tiramisu and even GulabJamuns to more complex pastries like a pistachio meringue tart, which are served on golden coasters.
They also offer free consultation on dessert arrangement and quality. Open from 2 pm, it closes at 12 midnight and has received as high a rating as of 4.6/5. The presentation is great, desserts exquisite and ambience pleasant. The quaint furniture and colourful cupcakes add to the delightful aura. Though it's a small place, you will simply love the aroma and the experience will definitely be worthwhile.
So come visit Dessert Directory and choose from a variety of over 30 types of desserts to satisfy your sweet-tooth at the first luxury dessert bar in Lahore.