3 captivating Lahore restaurants with outdoor sitting perfect for the current weather
The allure of outdoor dining experience becomes very captivating as we enter the Winter season. There's something undeniably magical about savouring a delectable meal under the open sky, surrounded by the gentle hum of nature or the vibrant pulse of the city. Soon the fires will be lit up in the outdoor sittings in Lahore and already Lahori foodies are always out, trying to find the best options, often unable to book a table. In this culinary exploration, we embark on a journey to discover the top three restaurants that elevate the dining experience with their exceptional outdoor seating. These establishments not only tantalize taste buds but also create an atmosphere where every bite is accompanied by a symphony of sensory delights. Join us as we unveil the gems where gastronomy and the great outdoors converge, creating memorable moments that linger on the palate and in the heart.
3-Andaaz
Location: Historic walled city, Lahore
Type of Food: Pakistani, desi cuisine.
Ambience: Offers delightful, stunning views of Badshahi mosque and Lahore Fort.
Website: https://andaazrestaurant.com
2-Sumo
Location: Gulberg & DHA, Lahore
Type of Food: Pakistani, desi cuisine.
Ambience: The outdoor sitting is limited, but lots of fun combined with the great quality of food and service.
Website: https://sumo.pk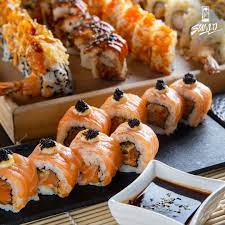 1-Fuchsia
Location: Gulberg, Lahore
Type of Food: Pan Asian- Chinese, Korean & Thai.
Ambience: Wide, open, serene sitting areas for a memorable experience.
Website: https://fuchsiapk.com