Sakura – for Japanese food cravings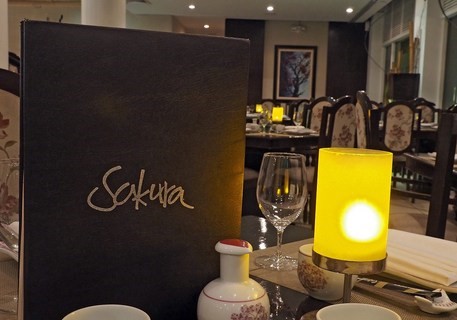 Past the security checkpoints, the long hallways, and the crowded lobby of Pearl Continental Hotel sits one of the very few consistently good restaurants of Lahore and even Pakistan. While the meal surely won't be economically priced, the brilliance of every dish plated, along with the accommodating and attending service, will all certify that the effort and cost are worth it.
Since its arrival on the Lahore restaurant, Sakura has added new dishes to the menu gradually but regularly. As a result, many great dishes are often missed out on when one is indulging in old favourites. With any luck, this review will throw a light on food goes unnoticed.
Salmon Sashimi
Sakura's menu is not one that any diner should rush through. Relax and order a little bit at a time, savor each item. Start with a bowl of edamame, steamed and salted for a lighter start, or the garlic and chili prettified variety for a bolder introduction. The little known Sushi Canapés make for a fine taste as well; fresh crab or salmon sashimi atop a crispy base, with caviar garnish, an enticing preview of the smorgasbord of seafood that should assuredly follow. The Salmon Tetaki's fresh flavours are a delicate mixture of soya sauce, ginger and spring onions and will further sharpens one's appetite, while also gratifying the palate.
Crispy California Rolls
The Crispy California Roll is the most amicable and popular dish on the menu, a roll that is mainly good for those who are new to the cuisine. Simulated crab enclosed in rice, topped with crispy fried and crumbled tempura for a pleasing crunch, topped with a sweet and spicy dressing. For those braver, but also in the mood for somewhat with an almost dessert-like after taste, there's the Dragon Roll; unagi (eel) with a sweet glaze, rolled in seaweed and rice, topped with fresh avocado, the feel of which pairs brilliantly with the succulence of the unagi.
Rainbow Roll
The rainbow roll is a dish that has a compound of flavours in a subtle way, while also viewing the varied array of seafood offered at Sakura; each single piece in the roll is topped with a different fish, salmon, tuna, red snapper, atop a roll filled with imitation crab and crunchy cucumber with a small blob of spicy Japanese mayonnaise. Each slice is different; take a moment to truly engross yourself into its components, before moving on.
Banana Tempura with Ice Cream
From the dessert menu, Sakura's Extravagance Belgian Chocolate Fondant may well be the best in town, else known by names such as puddle cake, or lava cake. While definitely not Japanese fare, it's a treat that should not be missed. If something tamer is more to your liking, the Banana Tempura with Ice Cream is light and satisfying.
While it is surely possible to eat a costlier meal, dinner at Sakura will run the not inconsiderable price of Rs. 2,000-2,500 per person and maybe even more. A lighter lunch is possible within the range of Rs. 1,500-1,800, which includes Sushi Bento; lunch sized platters of sushi, sashimi, or even rolls, served with Miso Soup, Steamed Edamame, Seasonal Salad, Sushi Canapé, and Chef's Dessert.
Sakura can handle large parties, regardless of how jam-packed it is. It owns all of the seals of a great restaurant, and your dining experience will be further improved if you were to take the time out to discuss favourites and menu options with the servers and sushi chefs. It is a costly indulgence, but one of the rare few in this country where the price totally worth it.