A Look At The Anatomy of Western Bridal Wear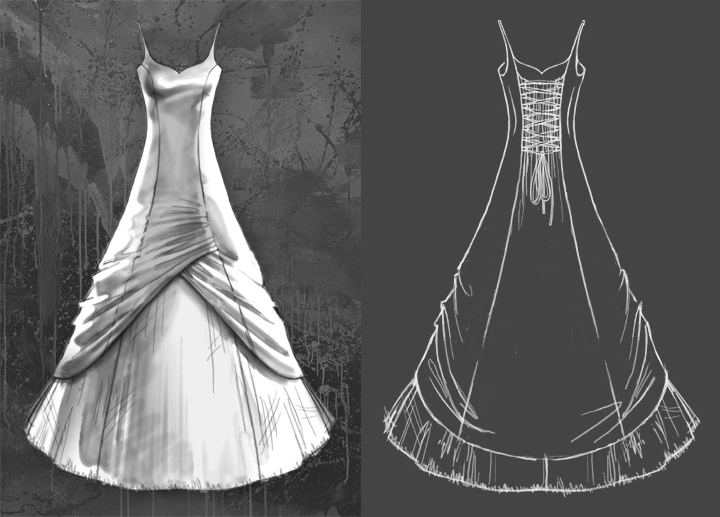 We witness modern western bridals in many of our everyday intercultural interactions, like in magazines, tv & films. The white dress- that we see (called a GOWN), and it's always WHITE. In the same manner, perhaps Westerners might say RED is what they always see while referring to Asian/South Asian bridals, as our Bridals are dominantly RED.
Like many things in life, a western bridal gown is only as grand as the sum of its parts. Beyond our visual acknowledgement, let's explore the anatomy of that White dress that we know too well. Take a moment to consider few elements of a Western Bridal Gown.
Sleeves
Wedding dress sleeves cover the shoulders and hand of the brides. Their types can be: Cap, short, 3/4 length and long. They can add extra interest to a bodice and provide balance for a skirt. Once closely linked to season, the selection of sleeve style is now largely a matter of how much — or how little — skin the wearer is willing to show.
Neckline
The neckline is the part of the wedding gown that frames the brides face. It is the part of the dress people notice first. Variations of necklines exist like the bateau, jewel and mandarin that are designed to sit high on the neck and offer coverage.
Bodice
Bodice—this is the upper section of the wedding gown from the shoulders to the waist. Some bodices are plain and simple, while others can go grand with crystals and other embellishments. Wedding gown bodices can be constructed with decorative details that add romance and individuality.
Skirt and Train
Skirt like other skirts are the part below the waist covering the legs. Whereas Train is the elongated back portion of the gown that lies on the floor and trails out behind the bride as she walks, giving her a majestic appearance.
Waistline
Technically, the waistline of the wedding dress is the horizontal seam that joins the bodice and skirt. Along with the neckline and sleeves, the waistline works to add signature style to a particular silhouette.
Silhouette
Silhouette refers to the overall shape of a gown. It's the most essential element to assess, because a gown's shape is its bedrock — and it's what sets the mood for the dresses' look. Common variations are ball gown, mermaid, sheath and A-line.
Hemline
The hemline of a wedding gown refers to its length — an element that's changed drastically throughout history. Dresses were generally floor length until World War I. Then, in the late 1920s, they rose to knee length, before dropping to the calf in the '30s. By the time the mini was introduced in the mid '60s, skirt length had become largely a matter of personal choice.
Credits: theknot